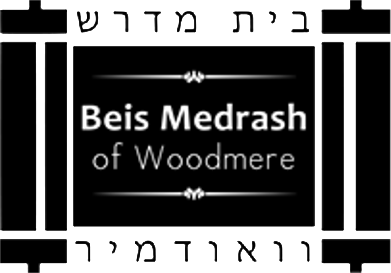 2021 Membership Drive
Dear Friends,
2020 is coming to an end. It has been a challenging year for us all. Throughout all of the challenges, we have been able to stay together as a Kehilla and flourish despite the adversity. We have tremendous gratitude to you, our members and friends who have helped the Shul and its members in myriad ways during this time.
The Shul, led by Rabbi Willig, continues to work hard to keep the sounds of Torah and Tefillah alive. This includes providing minyanim in a safe fashion in all sorts of venues, shiurim live and on Zoom, and disseminating Torah electronically.
As we reach the year's end, we at Beis Medrash of Woodmere are launching our annual membership campaign to help us through what we pray will be a much more peaceful 2021. With the vaccine becoming available, we are hopeful that be"H we will be able to come together in a "normal" way and we look forward to an exciting year ahead.
The Shul has incurred tremendous expense over the last few months in keeping Covid compliant, whether by erecting a large tent for many months more than planned or investing in safety protocols and devices to keep us safe inside. The membership will also enable us to provide programming for adults and youth as soon as possible. We ask that you continue to support the shul to ensure that we can continue to flourish and continue to service the community.
Membership remains the same as previous years with full membership $720.00 and Associate Membership $360.00. Additionally, we will keep the $200 assessment as well to help offset security and Covid related safety and facilities expenses. Additionally, we will be again offering the Chai Membership to those who contribute $1,800.00
All full members will be entitled to a man's seat and woman's seat on the Yomim Noraim. Associate Members will be entitled to a seat on the Yomim Noraim.
Payment can be made in one of three ways:
1) Payment online via Paypal or credit card by clicking here
2) Payment via check to PO Box 578, Woodmere, NY 11598
3) Chase Quickpay payments to office@bmwoodmere.org
Payment plans are also available when paying online.
If you are joining as a member for the first time, please fill out the membership form which can be found here.
Finally, if you have joined our Shul since the summer (July or later) your membership will continue through the 2021 year. Additionally, if you already paid for 2021 you need not pay again. If you have any questions, please send an email to our office at office@bmwoodmere.com
Mon, December 6 2021
2 Teves 5782
Today's Calendar
Shacharis

: 6:25am
Maariv

: 9:15pm
---
This week's Torah portion is

Parshas Vayigash View Calendar
Mon, December 6 2021 2 Teves 5782