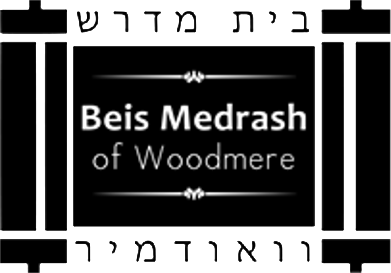 Kol Nidrei Appeal
Dear Members, Friends, and Mispallelim,
Baruch Hashem our Shul has experienced wonderful growth over this past year. The Beis Medrash is open every day of the week with an increasing number of programs, learning opportunities, and shiurim. But as you might imagine, growth also brings rising costs to our operating budget. It is imperative that we ensure that the Shul has the support to continue functioning as a makom torah and tefilah for the entire community.
The annual Kol Nidrei Appeal is one of the major sources of fundraising to cover those expenses. Please make every effort to contribute generously to this important fundraiser. Pledges can be made and redeemed by clicking here. You can also pay with Chase Quickpay by sending money to office@bmwoodmere.org.
Every donation, no matter the amount is appreciated. We hope that you will participate in this effort. After Yom Kippur the names of those families who participated in the appeal will be displayed in the lobby with special recognition for the following levels:
| | |
| --- | --- |
| Diamond | $1,800.00 and Above |
| Emerald | $1,000.00 and Above |
| Platinum | $750.00 and Above |
| Gold | $500.00 and Above |
| Silver | $360.00 and Above |
| Bronze | $250.00 and Above |
| Friend | $150.00 and Above |

Individual amounts will not be listed.
Wishing you and your family a Ksiva V'Chasima Tova.
Our mailing address is PO Box 578 Woodmere, NY 11598
Davening Schedule - summer zmanim
Mon, October 21 2019
22 Tishrei 5780
Today's Calendar
Shacharis

: 6:25a
Candle Lighting

: 7:02p
Maariv

: 9:15p
---
Friday Night
Shabbos Day
Shacharis

: 8:30a
Havdalah

: 6:49p
This week's Torah portion is

Parshas Bereshis View Calendar
Mon, October 21 2019 22 Tishrei 5780