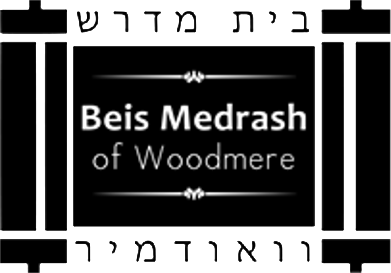 2019 Membership Drive
We are now beginning our 2019 membership drive and hope that you will join us in the continued growth of the Beis Medrash of Woodmere.
Baruch Hashem, under the leadership of our Morah D'asrah, Rabbi Akiva Willig, we have grown into a shul that is alive with the sounds of Torah and Tefillah every day of the week both in Shul and electronically on WhatsApp. Additionally the Shul is constantly alive with programs for all members of the family.
All of this growth has only occurred and can only continue with your help. We therefore turn towards those who share our goals and aspirations, our members, mispallelim and friends.
Family membership is $720 per year which includes one men's and one women's seat for the Yomim Noraim.
Associate Membership is $360 per year.
There is also an opportunity to be listed as a Chai member with a donation of $1,800.
Payment can be made in one of three ways
Payment online via Paypal or credit card by clicking here
Payment via check to PO Box 578, Woodmere, NY 11598
Chase Quickpay payments to office@bmwoodmere.org
Payment plans are also available when paying online.
If you are joining as a member for the first time, please fill out the membership form which can be found here.
If you have joined our Shul since the summer your membership will continue through the 2019 year. If you have any questions you can reply to this email or send an email to our office by clicking here
Davening Schedule - summer zmanim
For a copy of our fall/winter zmanim please click here
Fri, February 22 2019
17 Adar I 5779
Today's Calendar
Shacharis

: 6:35a
Candle Lighting

: 5:20p
---
Friday Night
Shabbos Day
Shacharis

: 8:30a
Havdalah

: 6:29p
Parshas Ki Sisa
View Calendar
Fri, February 22 2019 17 Adar I 5779